Contribute towards global community-agreed guidelines for UAV-based surface reflectance product validation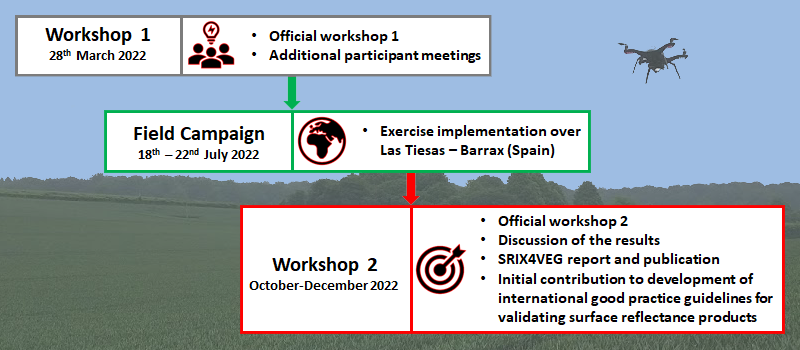 Aims and objectives
Hyperspectral information collected from UAVs is expected to become a major source of surface reflectance (SR) validation data in the near future. Unlike traditional SR validation data collection, an existing good practice protocol does not currently exist that considers data collection from UAVs. As such, SRIX4VEG has been initiated in the frame of the Committee on Earth Observation Satellites (CEOS) Working Group on Calibration and Validation (WGCV), in order to put forward a good practice protocol that is jointly determined by the participants through a dedicated campaign and a series of workshops.
The campaign will be based on two core experiments where each participant will:
Collect data according to their own methods
Follow a provisional protocol
In each experiment every participant will fly sequentially to every other participant (i.e., a round robin) to ensure that each pair of data is as comparable as possible. The variability of the outputs of each experiment will determine the need for a dedicated protocol, while each participant will put forward recommendations on what the final protocol should look like, thereby reaching a community consensus.
Main requirements for participation
UAV-mounted hyperspectral imagers capable of measuring 400 nm – 1000 nm contiguously; <= 10 nm spectral resolution
Funding to take part
EU UAV licence to fly your UAV and payload – further information here
UAV insurance to cover 3rd party damage and liability
Expression of interest
Register below to be kept up-to-date:
These details are collected and processed on behalf of the FRM4VEG consortium by the University of Southampton, in accordance with the University's privacy notice.
Other queries
In case of any other queries, please contact: srix4veg[at]frm4veg.org
Endorsed by:

Funded by: